Attached are pics of my rod wrapper setup I just made. Please, don't laugh. Went totally cheap and used old lumber I had laying around in the garage. All total I got about $20 invested - hardware, drying motor and in-line on/off switch so I don't have to unplug - using the drying motor for a fly and lure dryer as well. Once again, please do not laugh.
Picture below shows where I used my miter saw to get the V-blocks all the same height and, then clamped all of them together and made my cuts at once on the table saw for the V's. The boards on the right are the scrap I used to get the cut angle and depth right.
Countersinking of the screws to attach the V-blocks for the wrapping station. Did this for all the V-blocks, dryer and wrapping station. Used #10 x 3" wood screws, so, they are firm and stable. I didn't use any glue on any of this so that I can take apart rework, replace, etc. This pic also shows how cheap I am and the "quality" of scrap lumber I am using - very uuuuuuuuugly.
Assembled wrapping station less the thread tensioners.
Assembled V-blocks and drying motor. Put a bevel on all the bases just to be different. I am also going to use the drying motor to dry flies and other lures so there will be some mods coming to the chuck.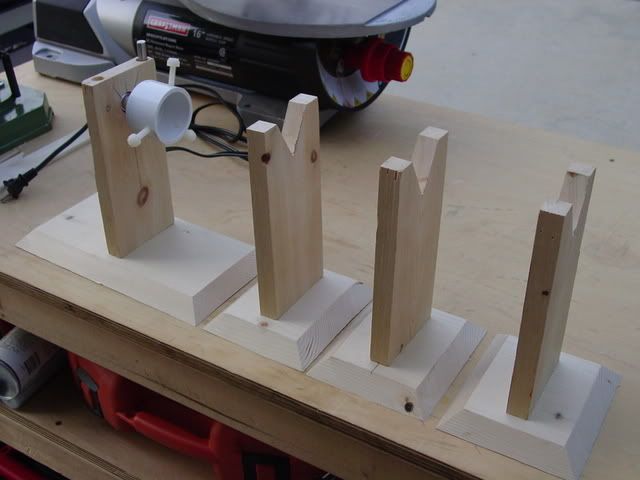 The assembled components.
The completed final set up. My home-made tensioners that I slapped together while in Ace last weekend - for $7. Time will tell how these work out and if I will end up spending another $24 to get the "real thing". For the material in the V-blocks to protect the rod finish I used - yes, I'm cheap - some old unused cloth diapers and wash cloths. They are super soft and smooth. I used the new (at least I had not seen it before) 3M mounting tape, it looks almost like jelly to attach the cloth to the blocks, then cut the material about 3x wider than what I needed. Put a 5" x ½" strip of the mounting tape down the middle of the cloth and wrapped around itself. Then forced down in the blocks and smoothed out. What I liked about this mounting tape is that its not hard and unlike glue does not leak into the material and get it hard. Very soft and flexible.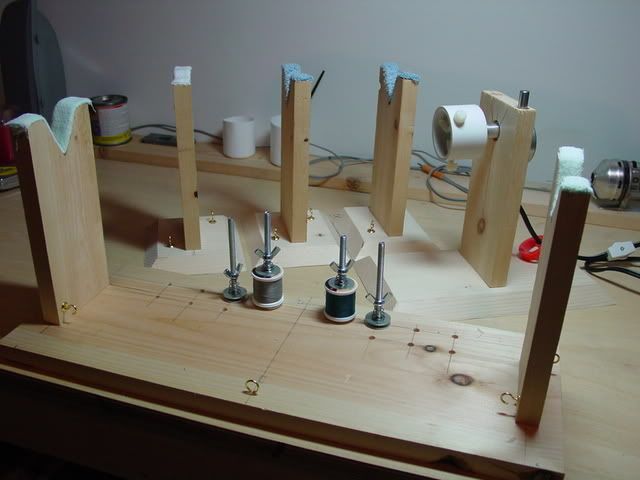 I started wrapping my Father-in-Law's old Zebco 202 trout rod and immediately discovered a couple of mods that are needed. First, the cup hooks in the base to hold rubber bands that go through the "v" to hold the rod are toooo tight - worthless. I found that I could just as easy put the rubber band around the block over the rod and it was perfect. Doing it this way also allowed the band to move if too much tension built up as I was rotating the rod. Second, the fixed V-blocks on the wrapping station need to move - in and out. When building I started to drill holes in the base and use dowels in the V-blocks so I could position them closer. However, I am thinking about using some of the T-groove tracks from Rockler and make them "infinitely" adjustable. But, time will tell. Going to do a few more and see where it takes me. Need to add a tool holder for scissors, burling tool, files, etc.
Need to make a rod loading jig. Got a good idea at the Custom Rod Builders Exposition last Saturday on how to do this. Was going to make one into the wall of my shop, but like the idea of a portable one I can put on my bench. Also, going to make a cork/grip lathe from one of my old drills. At that point should be done!
Anyway, just thought I would share. Again, please don't laugh. I am going totally on the cheap here to determine if this is something I really want to do, and, am capable of doing.
Time will tell......