Well the tournament I had been waiting for finally rolled around last weekend.Me and my partner really worked hard to get to the classic and worked hard to find the fish and perfect the pattern for the big tournament.To make a long story short,we won it!We had a 2 day total of 29.17 lbs.,a big 5.61lb. smallie for a kicker on the final day to come back.We were in 12th place after the first day but we made up alot of ground or,in this case pounds to bring home a new Legend Alpha 199 bass boat w/a 225 Merc Optimax!
A blind hog will stumble up on an acorn eventually!
I owe alot to this website for this big win!It was a tournament where alot adjustments had to be made with the weather and lake condition changes.Alot of what I have learned here helped me adjust to the conditions we were dealt.I don't got alot of time to go into detail right now on this borrowed computer(mine is down),the website has released pics and results and will have an article posted soon.Here is a link:
CLASSIC RESULTS
This is a pic of me and my partner in the boat we won.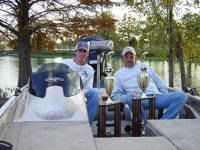 This is a pic of some of the fish we caught on day 2.