Dad and I got back from fishing Milford the last 3 days around 5 today. Wind sucked all 3 days like it usually does out there. Dad did pretty good with the trolling motor but it's a little tougher to drive one of the elecric control motors like his boat has so I did my best to be patient while each time we were spinning circles on the lake
This is more of a walleye trip than bass but I can't go to that lake and not fish for them a little bit, plus the walleye were TOUGH!
My biggest smallie of the trip, 17" and almost 3lbs.
Dad getting in on the action.
A solid spinnerbait smallie that just crushed it. Unfortunately I had just lost one that was well over 4 a few cast before catching this one so I wasn't quite as happy as I would have been
We got a tip from a guy at the dock by the dam that was training his retriever that guys have been catching lots of walleye in Farnum Creek. We had a few hours left in the day and it's only a 5 minute drive by road instead of 30 minutes by boat so we loaded up and made the move. Took a minute to find the fish but when we did we found everything. The wipers started blowing up behind us and I stuck a solid one on light spinning tackle that took me for a ride! The bait was way down there!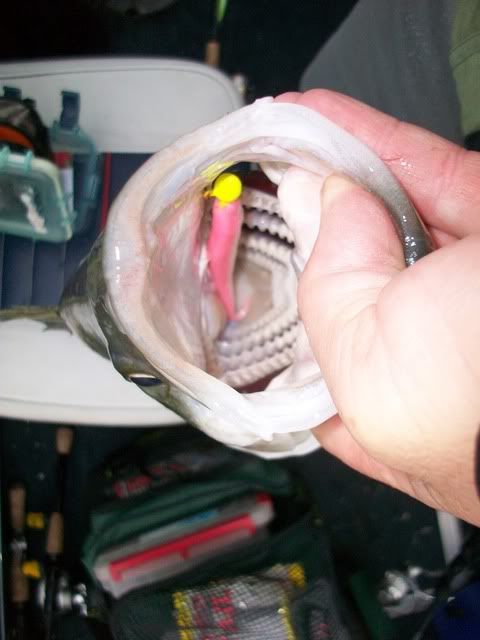 22" and 5lbs
We weren't catching the numbers of walleyes the guy told us about but we did catch some fish. Up to this point we had caught a grand total of 1 short walleye in almost 2 days fishing. We ended the night with 4 18" keepers out of 9 fish. Biggest was 20.5".
We went back to the same area the next day and the catfish had taken over! I was having fun catching blues and channels on a light spinning rod casting a gulp minnow but dad wanted walleye. I suggested an area so we made the move. Again it took us awhile to relocate them but once we got to the specific spot I thought they would be we found a few more. Today we had 3 keepers out of 7 fish with a 19.5" fish being the biggest.
It was a good time minus that wind and me almost having a rod jerked out of the boat and then throwing the same one out of the boat on the hookset
Thankfully I got it back and caught the fish that caused the whole mess in the first place
It was a multispecies weekend for sure we caught largemouth, smallmouth, whites, wipers, crappies, bluegills, green sunfish, pumpkinseed, channel cats, blue cats, drum, and carp.